Back to Events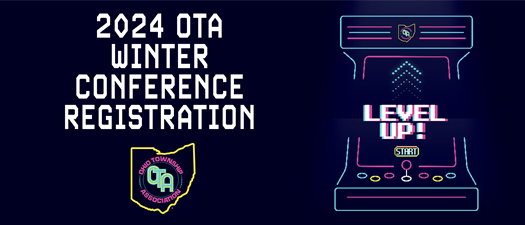 2024 Winter Conference Pre-Registration
Level Up!
Wednesday, February 7, 2024
at
8:00 AM (EST)
to Friday, February 9, 2024 at 4:00 PM (EST)
* Registration open until 1/17/24 at 11:59 PM (EST)
Event Details
Please Note:
There was an error in the November/December 2023 Magazine. The correct dates of the conference are February 7–9, 2024.
HIGHLIGHTS
Game on! Level up and mark your calendars for the 2024 OTA Winter Conference from February 7–9, 2024, at the Greater Columbus Convention Center. Our theme for 2024 is "Level Up!" and we will take you to the next level with over 80 educational workshops, numerous networking events, and one of the largest trade shows for local governments in Ohio.
Newbie Reception; Free | Wednesday, February 7, 2043 | 9:30 – 10:30 a.m.
Given that 2023 was a township election year, we are bringing back our Newbie Reception. This event is tailored to our first-time attendees, where they will mingle with OTA staff and board members. There will also be a presentation about the conference, the benefits of their membership, and everything the OTA has to offer. Beverages and snacks are included at the event.
*First-time attendees only. RSVP is required for this event.
Legislative Reception; $20 per ticket | Wednesday, February 7, 2024 | 5:00 – 6:30 p.m.
Head to the Ohio Statehouse to advocate for Ohio's townships during the Legislative Reception. Join state legislators and their staff for an evening of lively conversations. This event is a chance to make connections and advocate for township initiatives. With light appetizers and a cash bar, sign up early for this event that only happens every other year. The OTA will provide buses to and from the Statehouse.
General Session; Free | Thursday, February 8, 2024 | 9:00 – 11:00 a.m.
All members are encouraged to attend the conference's General Session. Not only will you hear the annual OTA address from Executive Director Heidi M. Fought, but active members will vote on the four OTA officer positions and gain insight from Judson Laipply. Known for his viral video, "The Evolution of Dance," he will entertain everyone in attendance! This is also the annual meeting of the OTA.
Casino Night; $35 per ticket | Thursday, February 8, 2024 | 6:00 – 10:00 p.m.
Returning for 2024 is an attendee favorite, Casino Night! The evening will kick off with a buffet of heavy appetizers and drinks while you settle in and mingle with your fellow OTA members. Then, you can show off your gambling skills at the casino tables. Attendees will have the chance to
play poker, blackjack, and more (with play money, of course). Not interested in games? We also have a DJ and will award various prizes throughout the night. Get your tickets now, as this event sells out every year!
Fritters with Fought; Free | Friday, February 9, 2024 | 7:30 - 8:30 a.m.
Have breakfast with the always-in-demand Executive Director, Heidi M. Fought. Start the final day of the conference by enjoying complimentary coffee and pastries at this great networking event. Taking place outside the Union Station Ballroom, Director Fought will be mingling with members and answering questions throughout.
Public Records Training; Free | Friday, February 9, 2024 | 8:15 – 11:30 a.m.
The OTA hosts one of the required state trainings for township elected officials every other year. This year, we will host public records training. Free for all attendees, this training satisfies the Revised Code requirement that all elected officials - trustees and fiscal officers - must have this training. Newly elected fiscal officers may attend and receive credit for their upcoming term even if they have not yet taken office.
A ticket is required to attend the training.
Luncheon; $35 per ticket | Friday, February 9, 2024 | 11:45 a.m. – 1:30 p.m.
This year's luncheon will be one you can't miss. Not only will you be treated to a delicious plated lunch (no braving the cold for food!), but you'll hear from award-winning, famed sportscaster Marty Brennaman. Best known as the former voice of the Cincinnati Reds baseball team, his passionate and outspoken presentation will be a conference highlight!
For More Information:
Michael Zaky
Director of Education & Events
OTA
(614)863-0045
Hotel Pricing:
Availability limited. Housing is not guaranteed after January 16, 2024. Please click here for the state hotel tax exemption form.
Parking:
Are you driving into town for one day of the conference? There are plenty of parking options near the Convention Center. Please find a few parking options below for your ease of travel. A map will be included in the Jan/Feb issue of the Ohio Township News. Standard event rates are generally $15–$20 per day but are subject to change.
Ohio Center Garage
400 N High St
Columbus, OH 43215
South Garage
50 E Nationwide Blvd
Columbus, OH 43215
Vine Garage
37 Vine St
Columbus, OH 43215
Goodale Garage
70 E Goodale St
Columbus, OH 43215
North Surface Lot
50 E Goodale St
Columbus, OH 43215
East Surface Lot
80 E Nationwide Blvd
Columbus, OH 43215
For more parking information, to purchase advance parking, and live availability updates, please click here.
Food:
Meals are not provided throughout the conference, except at optional events, which may require a ticket. You are more than welcome to pack your own snacks. There are several close food options available, including food vendors in the Convention Center and Trade Show hall. There are also numerous restaurants within walking distance of the Convention Center. A detailed map of area restaurants will be included in your registration materials at the conference.
Click here to learn more about Convention Center Dining.
Click here to learn more about dining options around the Convention Center.