Back to Events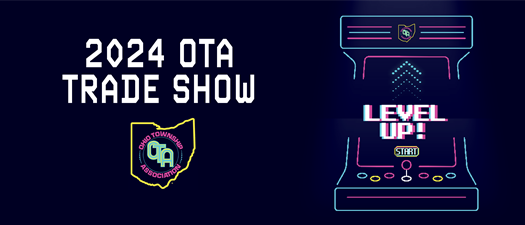 2024 OTA Trade Show
2024 Vendor Registration
Wednesday, February 7, 2024
at
12:00 PM (EST)
to Friday, February 9, 2024 at 12:00 PM (EST)
Greater Columbus Convention Center (GCCC)
* Registration open until 1/8/24 at 4:30 PM (EST)
Event Details
One of the largest local government conferences in the Midwest, the Ohio Township Association's (OTA) annual Winter Conference and Trade Show will be held on February 7 - 9, 2024, at the Greater Columbus Convention Center (GCCC). The conference consists of more than 80 individual workshops, a Trade Show with over 150 vendors, and optional events for networking.
MEET OUR ATTENDEES
Approximately 3,000 people, including representatives from Ohio's 1,308 townships, attended the annually. Conference attendees include elected officials (i.e., trustees and fiscal officers), as well as township administrators, road and cemetery superintendents, zoning officials, safety service personnel, and legal counsel.
DECORATOR
The 2024 decorator is Excel Decorators, Inc. You will receive a service kit via email from Excel within two weeks of registering. The kit includes information and pricing on furniture, carpet, shipping, labor, cleaning, electrical and other services. If you do not receive a service kit, please contact Excel at 614-522-0056.
TRADE SHOW OPEN HOUSE
With no workshops scheduled, attendees have several dedicated times to visit the Trade Show, talk with vendors, grab a refreshment, and network with other officials.
FOOD AND BEVERAGE
Levy is the exclusive caterer for the Columbus Convention Center. If your company wishes to provide any food or beverage during the trade show, contact Michael Zaky (zaky@ohiotownships.org). There are various options to purchase food on site including Columbus Grille, Crimson Cup,
Homegrown Market, and CBUS Tap Room. Additionally, there will be food vendors inside the show hall each day.
HOTEL REGISTRATION
The OTA provides block rates at six hotels in the downtown Columbus area. Hotel reservations must be made via the OTA website, and registration will open Wednesday, November 1, at 10:00 a.m. See page five for more information.
VENDOR DIRECTORY
Our Vendor Directory is part of our 2024 Winter Conference program. The listing shows a brief introduction to your business. By purchasing
the listing, your company will receive a listing in our online Vendor Directory. Purchasing both together through our conference will save your company $250 on our online vendor listing alone.
A profile listing will include your company name, company logo, description (max 50 words), contact information, social media handles, and website link. Purchasing a listing will place you on the Online Vendor Directory for the 2024 calendar year as well.
For More Information:
Tyler Lovelace
Public Relations & Events Coordinator
OTA
(614)863-0045
EXHIBIT AREA RULES AND REGULATIONS
(revised for 2024 Trade Show)
Sponsorship & Advertising Packet
Please call Tyler Lovelace at 614-863-0045 to check on availability prior to registering.
Explanation of Insurance Coverage: Each 2024 exhibitor is required to have in effect and maintain, for the period of the 2024 Ohio Township Association Winter Conference, February 7 through February 9, 2024, a policy of comprehensive general liability insurance covering personal injury or death or property claims occurring on or about the exhibitor's rented space or any other area of the OTA Winter Conference. The period of the OTA Winter Conference includes the set-up and tear-down days, and this insurance must be applicable to those days as well. The comprehensive general liability insurance (including contractual liability) shall provide coverage in the amount not less than $1,000,000 per occurrence and $2,000,000 in the annual aggregate. A certificate of insurance evidencing the above and listing the Ohio Township Association as an additional insured must be forwarded to the OTA before an agreement to rent booth space in the 2024 OTA Trade Show is completed.
COVID-19 Statement: We ask that attendees, exhibitors, and vendors abide by all CDC, local, and state government mandates in place at the time of the event dates. Remember to socially distance from those not in your group. An inherent risk of exposure to COVID-19 exists in any public place. Participating in the event constitutes your understanding, and the understanding of all those working with you, of this risk, and you each voluntarily assume such risk. The Ohio Township Association, Greater Columbus Convention Center, hotels, and conference sponsors/vendors cannot be held liable if you or anyone joining you contracts COVID-19.