Symmes Township Fire Department Achieves ISO 1 Classification
The Symmes Township (Hamilton County) Trustees recently achieved the improved ISO 1 classification for their community.
Symmes Township Trustee President Ken Bryant said, "We are incredibly proud of the Loveland-Symmes Fire Department (LSFD) for working so hard over many years to accomplish this goal. Our Loveland-Symmes firefighters and paramedics work tirelessly to save lives and property and to keep our residents, businesses, and visitors safe and are an integral part of our township.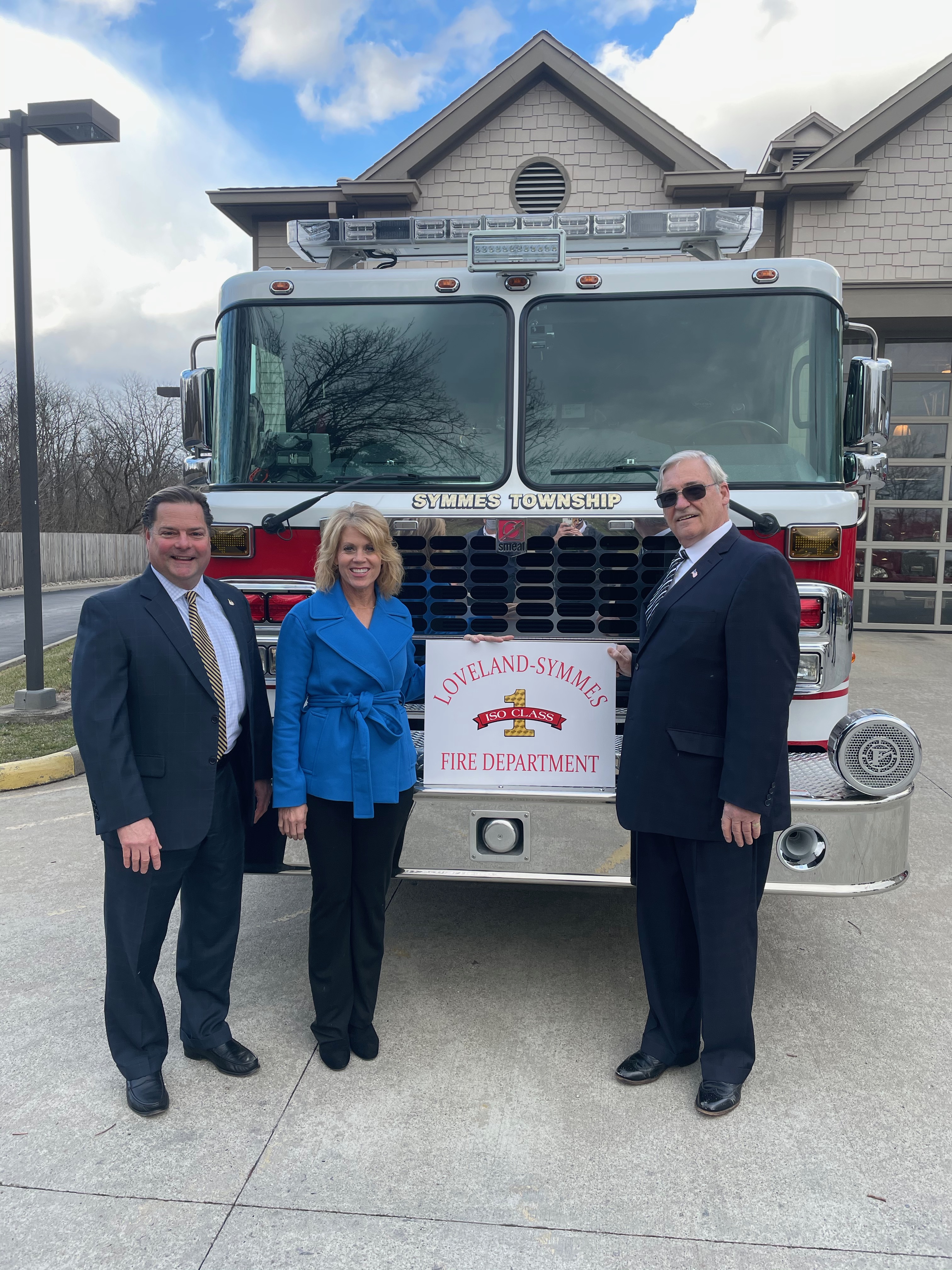 ISO is an independent organization that evaluates fire protection efforts in communities across the country. The organization collects information on communities and analyzes the data using its Fire Suppression Rating Schedule. This Fire Suppression Rating Schedule evaluates four primary categories of fire suppression – fire department, emergency communications, water supply, and community risk reduction. Fire services are ranked between 1 and 10.
The Class 1 ISO rating will rank the Loveland-Symmes Fire Department as one of only 383 Fire Departments in the U.S. that are ISO 1 classified.
To ensure that only the best are serving their community, LSFD's chief fire officers and captains also hold credentials in their capacities through the Commission on Professional Credentialing (CPSE), the Ohio Fire Chiefs Foundation Executive Leadership Program, the National Fire Academy Executive Fire Officer Program, as well as related professional leadership training and fire command certification programs.
Trustee Phil Beck said, "As elected officials we take the responsibility of providing emergency services to the residents as our highest priority. This improvement in our fire department's rating brings added value to our residents which is the benchmark we try to achieve when making decisions on our residents' safety and spending their tax dollars."
"This accomplishment was only possible because of the work of our dedicated staff, the support and guidance of our elected officials, and the continued support of our residents," added Fire Chief Otto J. Huber. "The mission of the LSFD is to provide the most technologically advanced fire and EMS with the highest trained professionals, and to deliver that service to our residents with loyalty and compassion. Our members live that mission every day."
The Township provides fire, rescue, and emergency medical services through a joint fire service agreement with the neighboring City of Loveland. The Loveland-Symmes Fire Department (LSFD) provides this service as a career fire and EMS department operating from four stations strategically located throughout the township and the city. The LSFD is dual accredited nationally through the Center for Public Safety Excellence (CPSE) and the Commission on Ambulance Accreditation (CAAS).
Township Administrator Kim Lapensee stated, "Building strong relationships with our neighbors along with our township's strong efforts to manage with strategic planning while maintaining fiscal reasonability to the taxpayers shows how grassroots township government can and does work for the people."
This first appeared in the 2021 March/April issue of the Ohio Township News magazine. Contact the OTA at communications@ohiotownships.org or Symmes Township with any questions.